"re-Manufacturing"
Restoring used automotive parts back to their original form
At Shin-Etsu Denso Co., Ltd, known in the global market as SHINE, we take used automotive electrical parts and bring them back to brand new quality through the process of "re-Manufacturing" SHINE specializes in the remanufacturing of 4 major products; Alternators, Starters, A/C Compressors, and Power Steering Pumps.
The remanufacturing process only begins after each unit is broken down to the very last screw and nut. From there every part is inspected, cleaned, reworked, and tested to meet the SHINE quality standard. Parts unfit for assembly are replaced with new components that have been sourced from trusted suppliers that only meet the required quality level of SHINE. All units are then re-assembled by hand and 100% performance tested before they leave our factory.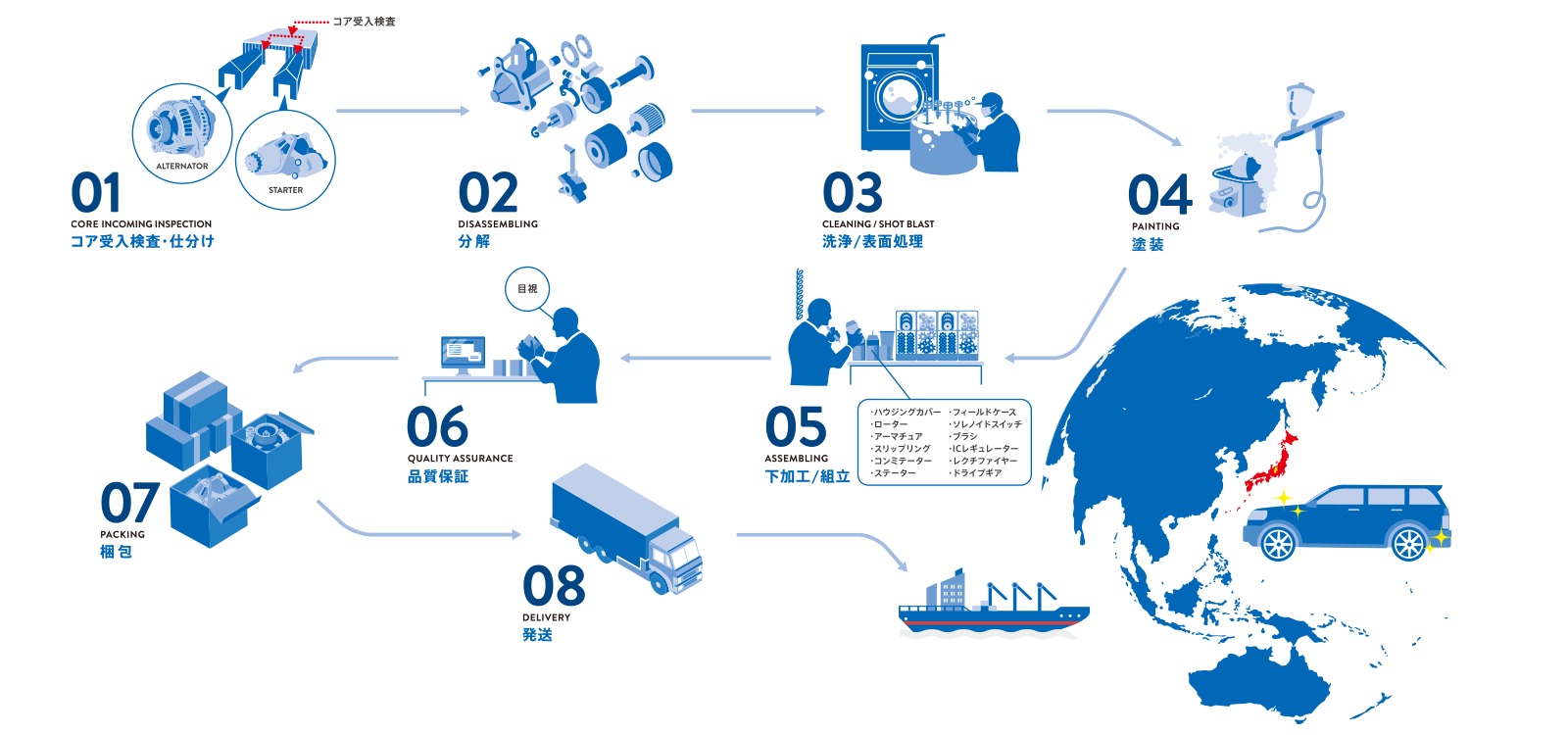 Our products are hand-made in Japan.
We look after every detail possible within the remanufacturing
process to ensure a top quality unit.
Only the best quality used parts or what we in the industry call "cores" are brought in from around the world and domestically to our plant in Nagano, Japan. From the core selection and every step up until the final assembly is a careful and quality oriented process carried out by our professional staff. It is our goal that all parts which leave our factory perform to the same level as if it were still brand new.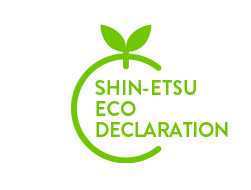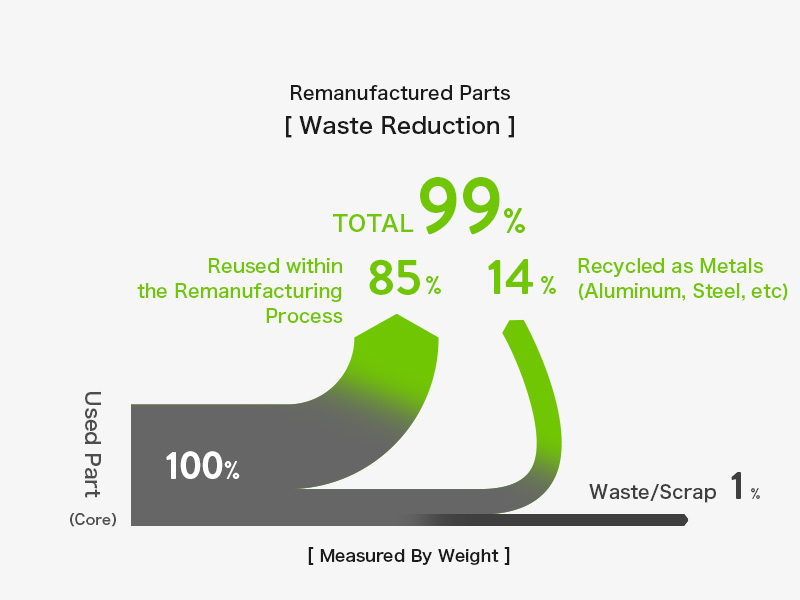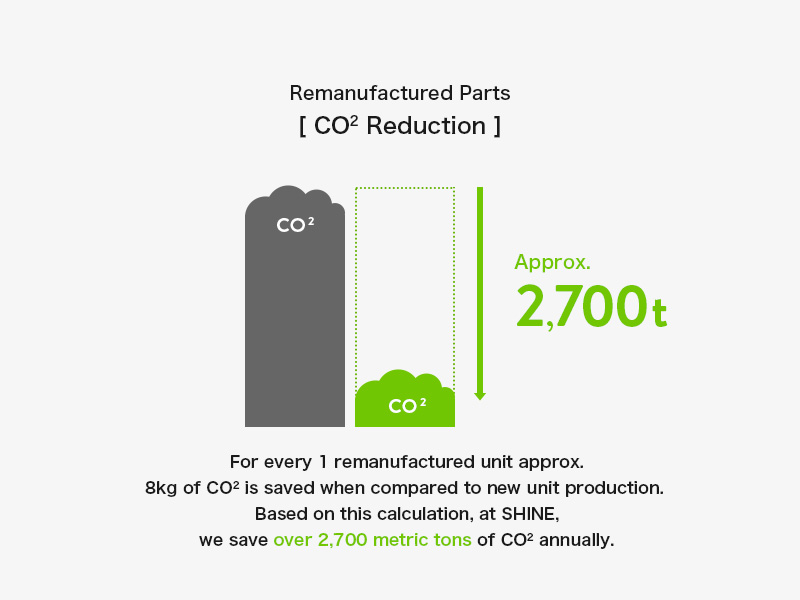 We utilize all re-usable parts and renewable energy resources
in order to positively contribute to the environment.
Remanufacturing, broadly put, can be categorized as recycling.
However, remanufacturing is a more sustainable system in terms of economic and societal contributions.
As a business our goal is to sell more or in other words convince more people to use remanufactured parts over new parts.
And as business we also work to lower costs by reducing energy requirements and increasing productivity.
In turn our societal contribution is an increase in skilled workforce while reducing environmental risks.
WHY CHOOSE THE SHINE BRAND?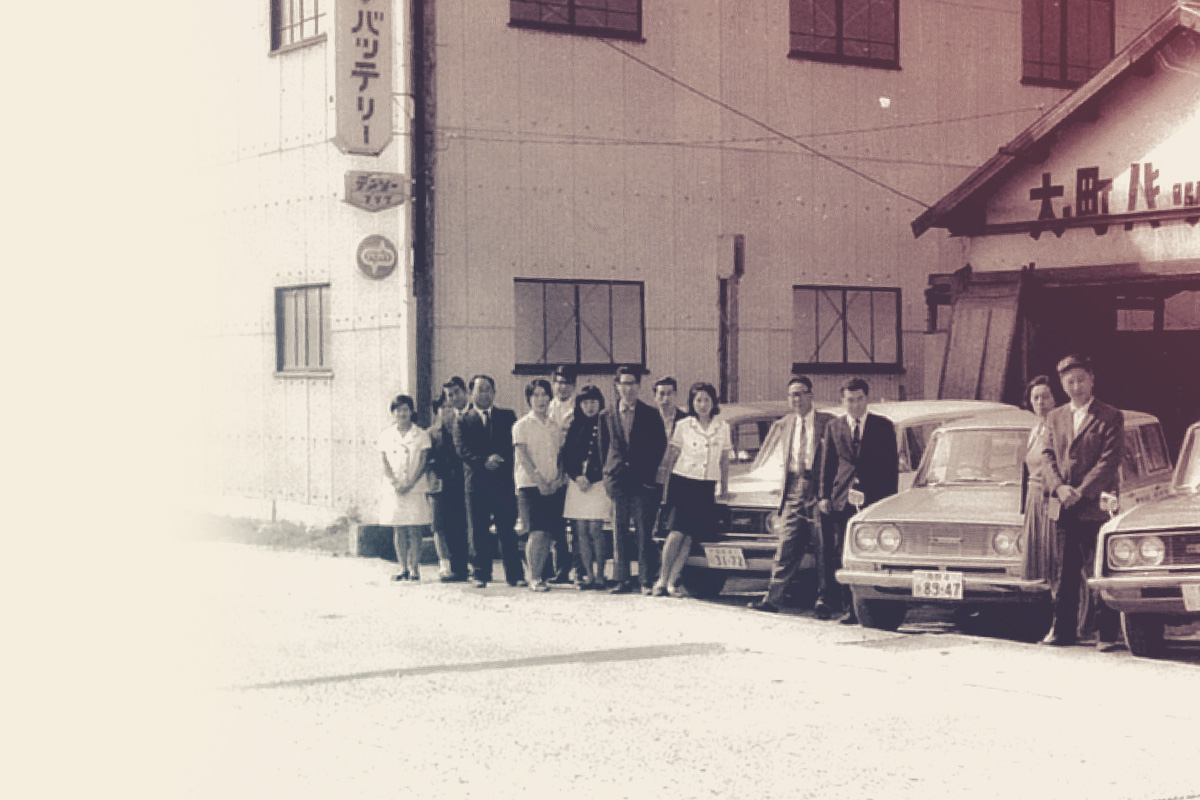 Reputation built on over 50 years
in the remanufacturing industry.
According to the Automotive Parts Remanufacturers Association (APRA), which was founded in 1941 and has over 1,000 members today, Shin-Etsu Denso Co., Ltd. was the very first member from Japan. The SHINE remanufactured product has the APRA stamp of approval.
We work hard to fill
your market requirements.
With three large warehouses filled with over 300,000 pieces of Auto Electrical cores our job is to ensure you have the right parts for your market. Our core collection network domestically and abroad allows us to serve many markets and reduce the worry about fill rates. Just send us a list of what you are looking for, we can help!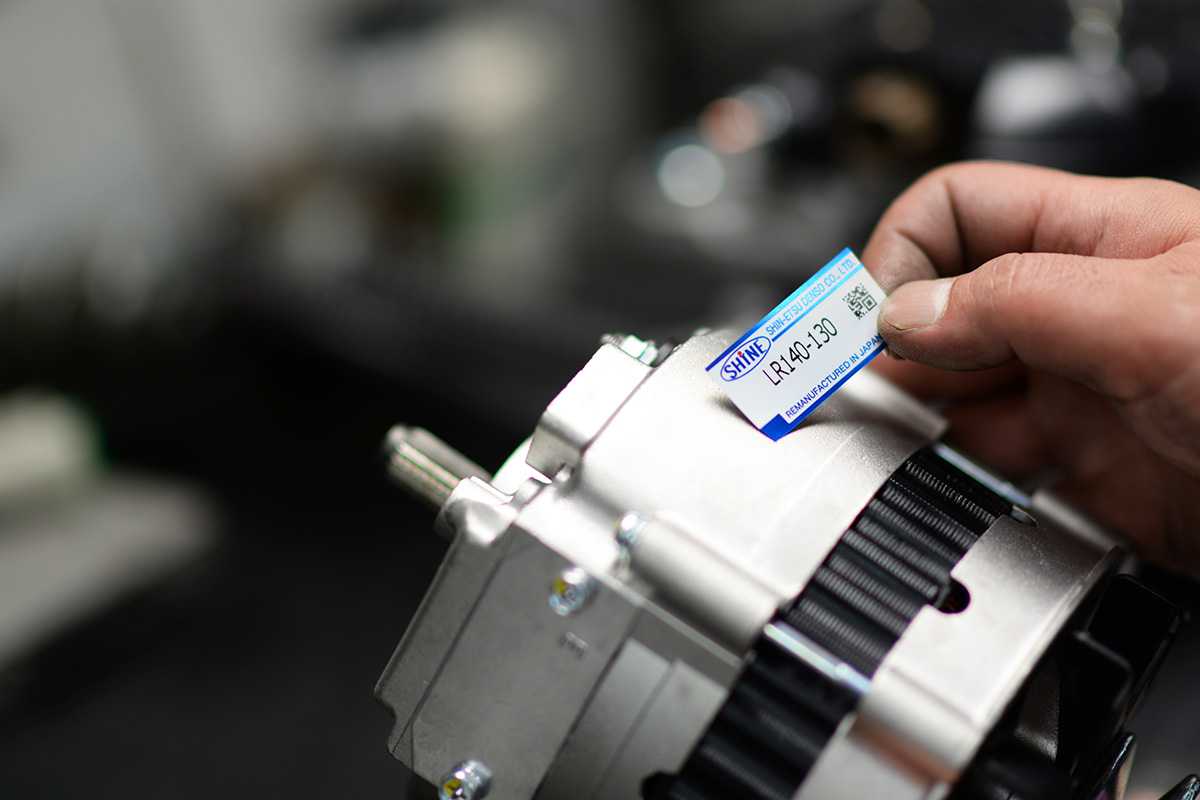 Globally recognized for quality,
only the best SHINE brand.

Over the years SHINE has built a reputation on offering top level service and the best in class remanufactured product. Today, the SHINE brand has become synonymous with quality. Strict quality gates throughout the remanufacturing process and 100% end of line testing are put in place to maintain the SHINE brand standard.